A design consultation is the perfect way to get great ideas and landscape design help, without paying too much for it. If you have thought about your yard a lot but still feel stuck, this is a good way to break out of your box and see potential you never suspected from your garden. You will be amazed how much creativity and problem-solving Kate can squeeze into a two hour consultation!
During your on-site consultation, you can discuss issues or concerns you have with any part of your outdoor space. Kate will spend a little time learning about you and your personal tastes, and then she will propose solutions and creative ideas for you. Any sketches she makes while meeting with you are yours to keep and work from. Kate can provide you with contractor referrals as well as resources for buying any of the plants or materials she recommends. The cost for the two-hour consultation is $500.
However, there is a limit to how much can be accomplished in the two hours. During a single consultation, Kate can typically do a design for a front yard or back yard space, but not usually both. For both you may need a second consultation.
A consultation might be right for you if:
You have a very small space. A consultation can be the perfect solution for a small garden!
You only need a design for a specific item, like an outdoor shower or a fire pit
You are only looking to change some of the plant material and are happy with the patios and other garden elements
You want to update exterior colors and finishes (including paint color) to freshen up the curb appeal of your house
Not sure if this is the right choice for you? Please feel free to give us a call- we would be happy to talk to you about your project! And, if you have a minute, check out our frequently asked questions regarding design consultations:
What will I get out of the consultation?
Any drawings I do during our consultation are yours to keep. If your yard is small, I may be able to draw you a complete planting plan with all of the individual plants chosen for you. Here is an example of a hand-drawn planting plan done during a two-hour consultation: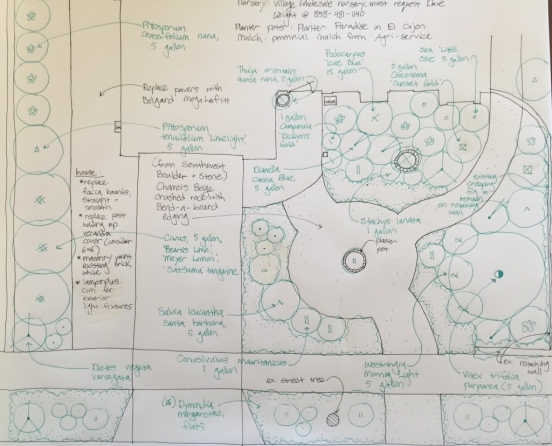 Once I have my sketch from you, then what? Do you give referrals for contractors? What about buying the plants?
Each garden is very different, but I will try to give you all of the information you need to make it happen. That might be contractor referrals, or the name of a good gardener. That might be information on what nursery to get the plants from, what pottery store to buy the pottery from, or even where to get the most affordable mulch and compost.
What if we need more than two hours?
I am happy to do up to four hours in a single day, if the two hours isn't quite enough. I charge $100 for each additional hour. For some gardens, you will need quite a bit more design than we can accomplish in two to four  hours. If that is the case, I'll recommend to you that we move on to the Expedited Plan option. Please hover over the Services menu and click on Expedited Plan for more info on how those work.
My front yard needs more than just plants. It is a blank slate, but it is small. Would a consultation still work for me?
Yes, it probably would. Here is an example of a design for a small front yard where I was able to create a design that included the hardscape (patios and walkways), and then use tracing paper to lay the plants in over the top of the design. Here is what that looked like: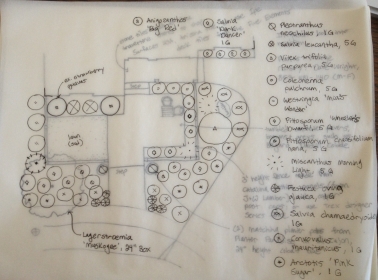 What if I am doing a pretty significant change, like adding a pool, but I already have a plan that shows where everything will go? Can you help with just the plants and picking the materials/colors for the pavement?
     Yes, I think we could do this but we should probably chat on the phone first to make sure. Here is an example of a project like that. I think it turned out beautifully!
This was the original sketch:

And here is the project after it was built:
How big of a yard can you tackle?
I can do a front or backyard for what I think of as a "typical sub-urban sized property", so if you live in a community like Claremont, Allied Gardens, University City, or almost anywhere in Uptown, then your yard is probably in that size range. Typically those lots would be between 4,000 square feet and 10,000 square feet. If your house is an estate or your property is measured in acres (an acre is 43,560 square feet), then a consultation may not be the right fit.  But, if you are unsure if you fit within the scope of a consultation, I would be happy to speak to you on the phone about it!
Do you charge for driving time? 
     No, you will only be charged for the time I am there with you, face-to-face.
Do you take credit cards?
     My preferred methods of payment are: a check made out to Sage Outdoor Designs, Paypal, or Venmo. If necessary, I can take a credit card using Paypal but I do not have a square to swipe a card. If you like, I can email you an invoice afterwards, but I prefer to take payment at the end of our meeting.