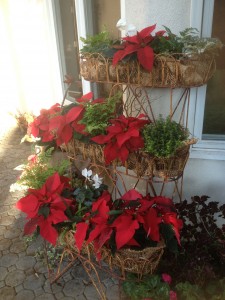 Holiday party coming up? I love the idea of decorating your front entry with plants- it is cheerful and tasteful, and some of the plants you can reuse in your garden later. (I said some because I don't believe in planting Poinsettias in your yard. Did you know they become trees? Leggy, stick-like, ugly trees. Its not good… so as cruel as it feels, toss them after the holidays).
This is a fun arrangement I just finished that will greet guests as they arrive for  a Christmas party. None of these plants are actually planted- they are all just in their nursery containers, which we hid with burlap and craft paper. After the party, my client will be able to use the ferns, ivy, Cyclemen, and thyme in her garden.
If you want to do some plant decorating for the holidays, let me know and I'd be happy to help! If you are looking for fun containers, plant stands, burlap, and other decorating supplies, you have got to try out Shinoda Design Center. You need a resale license, though, to shop there!