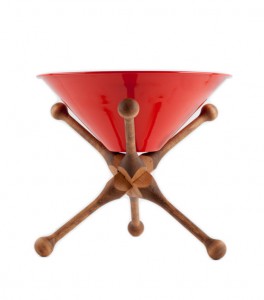 Meet the Jack-Be-Little planter. It is small, fabulously colorful, very Mid-Century, and ever so hip.
It comes in a rich orange-red or a jaunty sky blue and it about 10″ tall, so it is great for sitting on a side table filled with succulents, little pebbles, or even candy. Wouldn't he just make the perfect Christmas gift for that super trendy person you know, the one who already has everything, the one who it is impossible to buy presents for?
Right now, Steel Life is offering a deal from their Etsy shop– 40% off. That makes him a cool $75. Or, if you want to check out some of his full-sized cousins, here is Steel Life's website. I just ordered the matchstick planter for my office- I can't wait to see it (and yes, once I have it here and planted up, I'll post photos)!