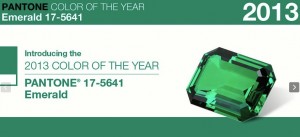 Pantone has released their pick for 2013's Color of the Year: Emerald Green. At first, I wasn't sure if I was sold, but the more I look at it, the more I am on board with this trend.
They claim it is "Lively, radiant, and lush, a color of elegance and beauty that enhances our sense of well being, balance, and harmony." Translation: all at once it manages to remind us of crisp polo-shirt wearing Wimbledon fans, happy days spent as children watching the Wizard of Oz, and a slow walk through a serene leafy forest. How can one color do that, you ask? Well, shucks- I have no clue. But it makes me feel wealthy just looking at it.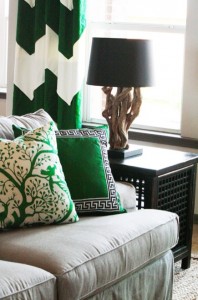 Actually, it scares me a bit how right Pantone typically is with their color picks. Last year (2012, that is) it was a deep orange-red that they called Tangerine Tango. And yes, I did paint the accent wall in my office just that color. And 2010 was Turquoise… and well, you all remember my almost embarrassing obsession with that color.
And yes, I did skip 2011 on purpose- they named a sherbert pink they call Honeysuckle, but I beg to differ there. I think it should have been a rich plum purple. For a while there, I couldn't stop buying purple things, and I've noticed it even started showing up recently on tennis shoes. I think that might be the end of the line as far as a color trend goes.
I learned recently (from my good friend Feras Irikat of Oceanside Glass tile) that it typically takes two years for color trends from world of high fashion (the runways) to make it into the home. So that gives us a little time to decide if this one really is a winner. What do you think? Would you use this color?